Island Sky
Overview
Official No: 0832720
Place Built: North Vancouver, BC
Builder: Vancouver Shipyards Co. Year Built: 2008
Vehicle Capacity: 125
Passenger/Crew Capacity: 462
Overall Length: 102m
Breadth: 26.45m
Gross Tons: 4,313
Service Speed: 15.5 knots
Horsepower: 4,416

The Island Sky operates on Jervis Inlet, between Saltery Bay and Earls Cove. She is one of the newest ferries in the fleet, and the most recent one built in British Columbia. The onboard amenities of the Island Sky include a Coast Cafe Express (snack bar), gift shop, and plenty of outside deck space. Unique to the intermediate sized vessels, the Island Sky has a main cardeck as well as gallery decks on either side to increase vehicle capacity. Built between 2006 and 2009, the Island Sky was delivered almost 10 months later than contracted. Despite some problems delaying her transfer to BC Ferries, she has provided effective and reliable service to date.
Timeline
October 15, 2004 - BC Ferries issues a request for proposal to three shipyards for construction of a new intermediate vessel to replace the Queen of Tsawwassen. July 6, 2006 - BC Ferries signs a $45.5 million contract with Vancouver Shipyards to construct the Island Sky. December 11, 2006 - Keel laid. November 20, 2007 - The new ferry is named Island Sky. November 21, 2007 - The Island Sky's hull is launched from Vancouver Drydock. November 23, 2007 - The Island Sky is towed to Victoria Shipyards for the installation of her superstructure. December 8, 2007 - The new ferry is towed back to Vancouver Shipyards to complete her construction. June 16, 2008 - First sea trial of the Island Sky. She had to be towed back from English Bay. December 10, 2008 - BC Ferries takes ownership of the Island Sky. February 13, 2009 - The Island Sky hosts an open house at Saltery Bay. February 19, 2009 - The official first sailing of the Island Sky departs Earls Cove at 0535.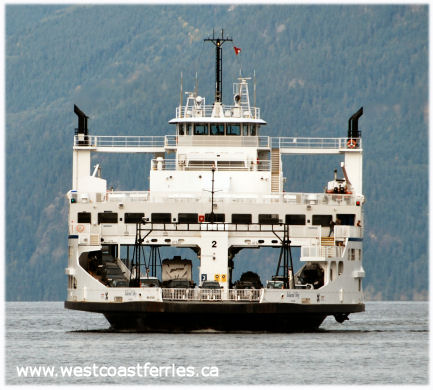 Origin of Name
Island Sky - According to the company news release (November 20, 2007), the name "Island Sky" celebrates the beauty of our province and evokes the unparalleled sunrises and sunsets that British Columbia has to offer. The name is meant to epitomize the natural splendour of the west coast."
Acknowledgement
Putting together the timeline of the construction and early days of the Island Sky was greatly helped by the detailed record of the events kept by members of the West Coast Ferries Forum in the So... that I Vessel thread. Also, thanks to Doug Nixon of Parksville for taking the photos of the Island Sky for me.