Mayne Queen
Official No: 0323848
Place Built: Victoria, BC
Builder: Victoria Machinery Depot
Year Built: 1965
Date Launched: Sept. 7, 1965
Vehicles: 70
Passengers: 393
Crew: 7
Length: 84.96 m
Breadth: 18.65 m
Gross Tons: 1,475.68
Service Speed: 14 knots
Horsepower: 3,560

Overview
The Mayne Queen is a minor vessel (Powell River Class) operated by BC Ferries operating in British Columbia's Southern Gulf Islands. The Mayne Queen along with her then-identical sister ships, the Bowen Queen and Powell River Queen were built for BC Ferries in 1965 for service on some of the busier minor routes.
Today
These days you will find the Mayne Queen usually serving on the Swartz Bay - Southern Gulf Islands route. Onboard, you'll find three interior seating (one on either side of the first passenger deck, and a large one on the second passenger deck), three levels of accessible outside deck space, vending machines, and washrooms (with access for those with disabilities).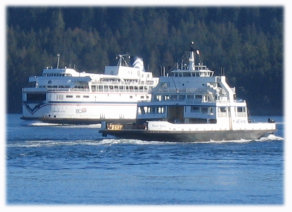 The Mayne Queen is powered by four engines and propelled and steered through four right angle drives (RADs), one located in each quarter of the vessel. These engines allow the ferry to turn on a dime and even move sideways. For evacuation purposes, the ferry is equipped with a number of life rafts. There is also a rescue boat located on the outside of the main passenger deck.
History
The three Powell River Class ferries were built to operate on the new minor routes acquired by BC Ferries in the early 1960ís. These vessels were built for approximately 1 million dollars each in 1965, and originally had a 50-car capacity. Unlike her sisters, until 1979 the Mayne Queen had two additional side loading ramps (one near each end) to allow loading from a pier. In 1979, the Mayne Queen along with her sisters were stretched and re-engined at a cost of $3 million each, increasing their vehicle capacity to 70. At that time, the side ramps were removed.

Vehicle Capacity
Length
Gross Tons
Horsepower
Service Speed

Before Stretching
50
55.69m
1,125
1,650
13 knots

After Stretching
70
84.96m
1,475.68
3,560
14 knots
As today, the Mayne Queen began service on the Swartz Bay - Southern Gulf Islands route. Except for a few minor stints as a replacement vessel on other routes, the ferry has remained on the Southern Gulf Islands route for most of her life.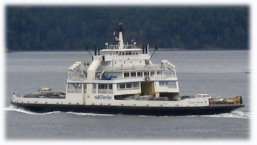 On November 7th, 1995, the Mayne Queen hit the dock at Snug Cove, Bowen Island, damaging 12 boats and part of the neighbouring marina. One of the ferry's four propeller units was damaged as well. The Transportation Safety Board of Canada's Report Number M95W0195 gives a full in-depth review of the incident.
Less than a year later, on August 13, 1996, the Mayne Queen again had mechanical problems with steering, and was grounded on Piers Island, near the Swartz Bay ferry terminal. While there were no injuries, the accident resulted in a minor oil spill and three of the ferry's propellers were heavily damaged. Passengers were stranded for 5 hours before being let off at Swartz Bay. Report Number M96W0175 from the Transportation Safety Board of Canada gives a full rundown on the accident.
Origin of Name
Mayne Queen - Named after Mayne Island (a Gulf Island), which was named after Lt. Richard C. Mayne. He was a officer with the British navy and worked on the coast between 1857 and 1861. ("Maybe Island" - Encyclopedia of British Columbia)
For Further Reading
Bannerman, Gary and Patricia. The Ships of British Columbia. Surrey: Hancock House Publishers, 1985.

Favelle, Peter. The Queens of British Columbia: a detailed account of the ships in the B.C. Ferry fleet. North Vancouver: Discovery Magazine, 1974.

Griffiths, Garth, and H.L. Cadieux. Dogwood Fleet. Nanaimo: Cadieux and Griffiths, 1967.